Internationalism Socialism Ussr Nations Russian Soviet Art Propaganda Poster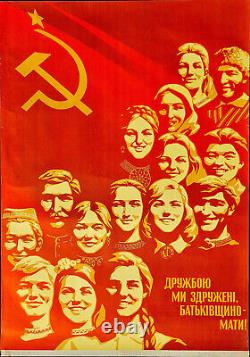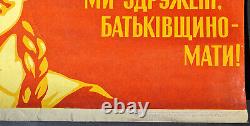 Original slogans on the poster. WE ARE FRIENDS VIA FRIENDSHIP, MOTHERLAND - MOTHER! = CM: 68 x 97. The poster was created by KUDRYASHOVA KLAVDIA ANDREEVNA (1927-) - Famous Ukrainian Soviet poster artist.
Member of the Union of Artists of USSR. Klavdia Kudrashova was born on 10 of October 1928 in village Skaty of Kurganivskoy area. During his studies at the Lviv Polytechnic Institute in 1949 met her future husband Evgeny Kudrashov. Together, they were transferred first in Lviv Institute of arts and crafts, and to the Kiev Art Institute.
Both graduated from the Kiev State Institute of Art in 1953. Graduates immediately were hired a popular publishing house "Art". Klavdia takes on complex detail work. Eugeny - on the contrary, almost no draws on order.
He brings to the publishing house ready artworks. During his artistic career she created about 200 posters and 250, together with her husband Kudryashov Evgeny. In total, over 60 years of working together were created about 600 posters. Klavdia Kudrashova - bright, outstanding representative of Ukrainian Soviet poster school. Nowadays 87 years old poster artist is living in Boyarka city under Kiev region.