1950s USSR Russian Soviet Womens Fancy Cosmetics Catalog Color Illustrations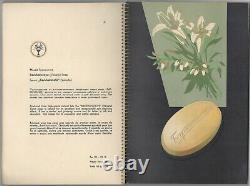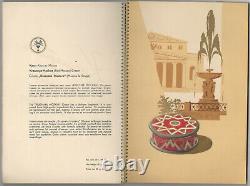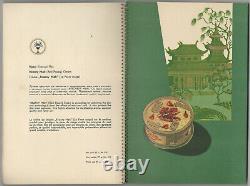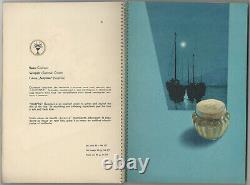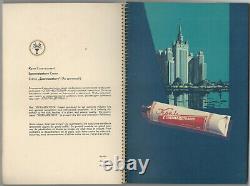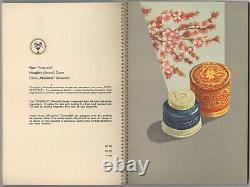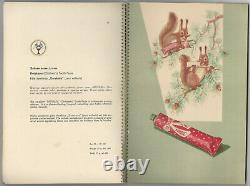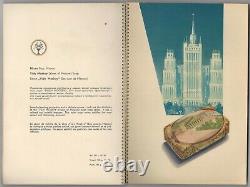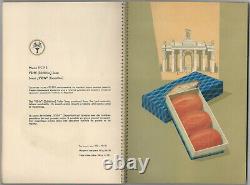 Very Handsome Early 1950s Russian Fancy Cosmetics Catalog. Titled in Cyrillic, English and French- [Cosmetics] - Cosmetics - Produits Cosmetiques, and with a tri-lingual text.
No place or date but presumably Moscow, and certainly late 1940s or early 1950s (one box shown is dated 1947). An absolutely lovely trade catalog of cosmetics from 1950s Soviet Russia (now there's a sentence I don't get to type very often). The Russian/English/French text, and economic conditions in the Soviet Union at the time, suggest that at least some of the intended market was foreign. The text describes the features and benefits of each soap or cosmetic in much the same terms Madison Avenue admen were using (and still use), showing that glib b.
The background illustrations encompass a variety of subjects, including Moscow landmarks, flowers, peaceful scenes, and tidy squirrels. Wire bound, 6.75"x10.25", title page and 18 color plates each with facing text. Covers with some soil, a little minor wear, otherwise clean and nice. IMPORTANT INFORMATION FOR OVERSEAS BUYERS, PLEASE NOTE. Joslin Hall Books & Ephemera.
Member of the Antiquarian Booksellers Association of America the International League of Antiquarian Booksellers and the Ephemera Society.