Researched Soviet Russian USSR medal Order of Glory 1st class #3769 with COA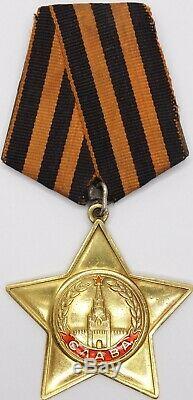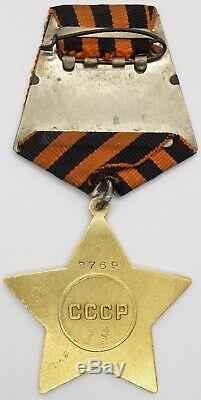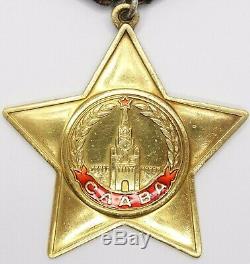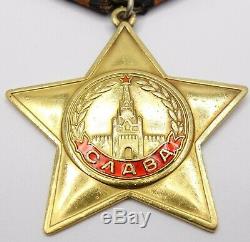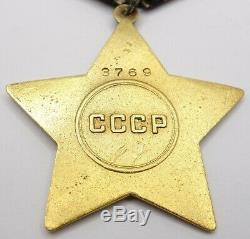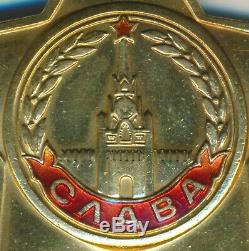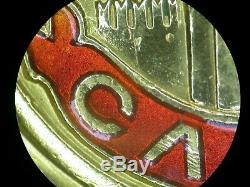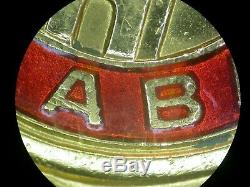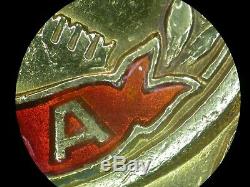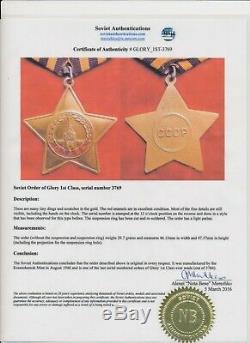 Order of Glory 1st Class #3769. Awarded to jr sergeant Mikhail Vladimirovich Getmansky .
For street fighting in the very center of Berlin during the Battle of Berlin. Meters away from the Führerbunker two days before Hitler committed suicide! Rare 2nd variation with only apx 600 produced and one of the very last orders of glory 1st class awarded!
Comes with documents and Certificate of Authenticity. This Order of Glory 1st class is made of solid gold and enamels. Measures 47.57 mm in height (including the eyelet), 46.13 mm in width and weighs 29.7 gram. The serial number, 3769, is located at the 12 oclock position on its reverse. The order is in excellent condition with most details crisp.
Even the higher laying parts have little wear and the red enamel is absolutely pristine. The gold on its reverse shows some dents and scratches but nothing disturbing. The order shows no repairs and it comes with its original double layer steel suspension. The minimum number known is 3136 and the maximum is 3776.
Also with this lot is a Certificate of Authenticity done by the well known expert Alexei Merezhko (Nota Bene) and a research letter from 1996. A very rare piece of historical significance! Short, factual description of the military feat or achievements. Comrade Getmansky serving as a trainer destroyed three enemy machine-guns, one 81-mm mortar, and eliminated 15 enemy soldiers during the period of 1945, 04/28. 05/01 street fights in the City of Berlin along Beuthstrasse, Niederwallstrasse, and Oberwallstrasse.
He also suppressed the fire of four enemy machine-guns and two 81-mm mortars, thus facilitating the successful advance of our units and the capture of eight city blocks. Comrade Getmansky deserves to be awarded with an Order of Glory, 1st class for destroying enemy weapons and facilitating successful operations of infantry in the street fights during the capture of Berlin. Signed: Commander of 1038th Kishinev Rifle Regiment Colonel Liubko.
Deserves to be awarded with an Order of Glory, 1st class. (note: Especially the Oberwallstraße saw some of the most vicious fighting between Soviet and German troops). Biography of junior sergeant Mikhail Vladimirovich Getmansky. Was born in 1924 in the city of Lugansk.
Before the Great Patriotic War worked as a metal worker at the October Revolution Plant. First days of the war were difficult for Mikhail Getmansky. In the beginning there was a fighting retreat deep into the native land. But military experience, proficiency, and courage of the young fighter have been steadily growing.
In as soon as half a year Mikhail had become an excellent gun layer. He scored one destroyed enemy tank, and his chest was decorated with the first award: Order of the Red Star. The year of 1944 was particularly memorable for Mikhail.
That year he became a member of the Communist Party. That same year he received two more awards: Orders of Glory, 3rd and 2nd class for participation in fights for liberation of Odessa and Kishinev. At that time spring thaw was not yet over in Odessa land and the offensive was conducted over dirt roads soaked with water. Soviet warriors who got used to all the deprivations and hardships of the front line life tenaciously moved forward and caught the enemy where least expected. In one of the fights Getmanskys gun was on an open position and the crew had to engage ten enemy guns and machine-guns.
The artillery men courageously fought on until the reinforcements arrived. In this fight Getmanskys gun destroyed three enemy guns and two machine-gun emplacements. Artillery crew of Junior Sergeant Getmansky acted just as bravely in the street fights in Berlin. There they had to beat enemy soldiers who took positions in buildings, basements, and garrets. By the time the battle was over they had destroyed over ten guns and mortars and three machine-gun emplacements with their crews.
On the last day of street fights Mikhail Getmansky was wounded. Nevertheless the courageous fighter did not leave the battlefield in such an important moment. His firmness, bravery, and valor were marked with an Order of Glory, 1st class. After the war Getmansky continued service in the Soviet Army for nearly two more years and then was transferred to the reserve.
Currently Mikhail Stepanovich works in Nikolaev at Dormashina Plant. Links to stories on Getmansky can be found here. It is worth noting that this very order and its history will be mentioned in Battlefield Berlin: 100 Items and Stories, by Jonathan Baynard. His book will be published soon.
Please visit our website for many more items! All my items come with a lifetime guarantee of authenticity unless stated otherwise.
Payments by bank, Bitcoin or in Euros receive a 3% discount on the final price. The item "Researched Soviet Russian USSR medal Order of Glory 1st class #3769 with COA" is in sale since Tuesday, February 19, 2019.
This item is in the category "Collectibles\Militaria\WW II (1939-45)\Original Period Items\Russia\Medals, Pins & Ribbons". The seller is "79grunn" and is located in Bellingwolde. This item can be shipped worldwide.
Type: Medal
Country/Region of Manufacture: Russian Federation