1920s XL 14 USSR Soviet Union Russia Smolensk Lady Russian Cloth Stockinet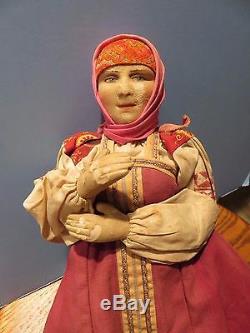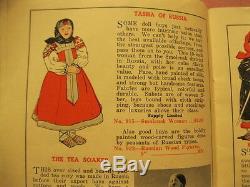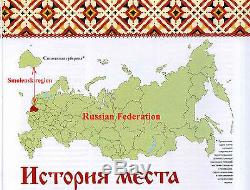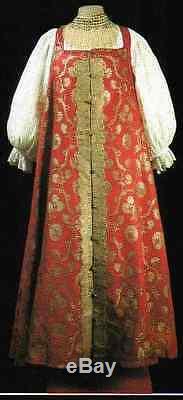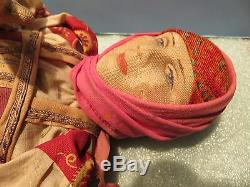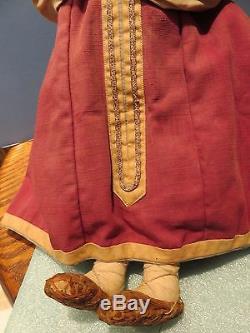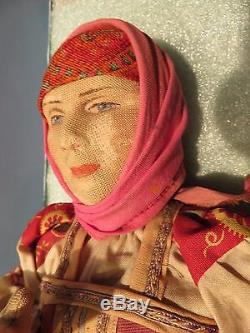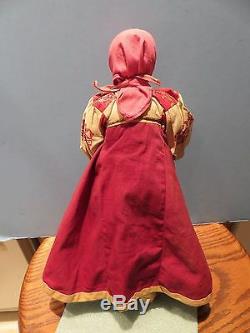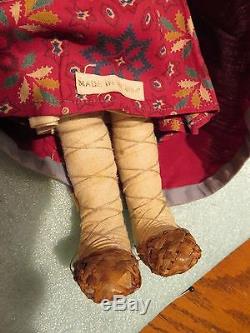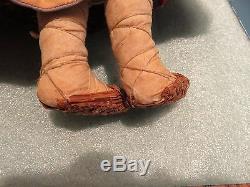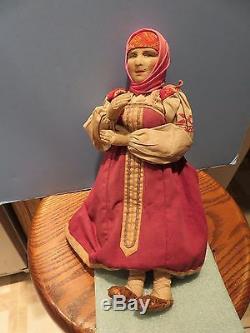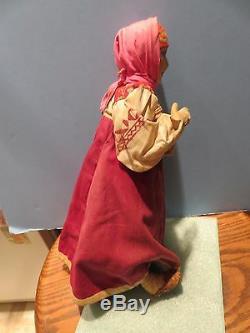 Related search terms: Europe Eastern Central European National Nation Culture Cultural Native costume ethnic foreign folk cost. In the 1920s through 1940s a series of wonderfully made all cloth stockinette dolls was made representing the peoples of the newly formed Soviet Union The USSR: The Union of Soviet Socialist Republics -- what they abbreviated as CCCP in the Cyrillic alphabet. They are true artistic creations the silk stockinet faces in particular are sensitively made and sculpted with tremendous skill.
Facial features are painted on and beautifully done. Are similarly made and stitched together lightly to maintain their position in front.
The dolls body is all well-stuffed cloth and the arms are cloth wrapped over wire armature. This doll is from a series of large dolls (14-15) all representing the different ethnic regions of the USSR. This one is 14 tall. She is dressed in a traditional folk costume of Smolensk which is in the Russian part of the former USSR. Dolls of this series are featured in the World Colors Dolls and Dress: Folk and Ethnic Dolls by Susan Hedrick and Vilma Matchette on page 126 (see picture below). She was made before 1922 because her cloth tag reads Made in Russia. After 1922 the dolls were labeled. These earlier dolls are much more rare. This doll is featured on a website about Russian collectable dolls of this type. Other dolls from this series are shown in "European Costumed Dolls: Identification and Price Guide" by Polly and Pam Judd. They are also on page 209 of "The How-To Book of International Dolls: A Comprehensive Guide to Making, Costuming and Collecting Dolls" by Loretta Holz.
A doll from the same series is shown on page 50 of "Cloth Dolls from Ancient to Modern: A Collector's Guide with Values" by Linda Edward. This is the actual original color but the scarf has been turned upside down because the pink was quite faded.
The underside has the original pink color, but some painted floral decorations that used to be visible are now on the underside. Her cotton blouse has long full sleeves gathered at the wrist. Red painted designs indicate areas where embroidery would normally be seen. The cut of the blouse is wonderfully done, with extra work to truly depict the special construction of this garment.
It has red gussets under her arms, and red print cotton inserts over the shoulder. The white part of the blouse has darkened with age.
Her over-dress or jumper is made of heavy wine-colored cotton. Like the blouse, this one has unique features as well.
It is constructed of long rectangular pieces sewn to trapezoidal pieces cut from a rectangle of cloth in such a way that there is absolutely no waste of fabric with arm hole cutouts or darts to create the overall triangular shape of the garment. This is common in Eastern European peasant costume. I have seen it in Bulgarian and Yugoslavian costume in particular. I think I would also opt for a design that did not waste fabric if I had to spin the thread and weave my own fabric to sew clothes! There are light gold colored shoulder straps and fabric trim across the top, around the hem and two lines of it go down the front and form a point near the bottom.
Delicate blue and gold colored fabric trim goes over the gold colored trim everywhere except on the hem. The inside of the hem has a band of blue fabric. All the colors of the jumper in front has faded compared with the back.
The inside of the jumper is a very rich wine color that represents how it would have appeared when new. She has long white cotton drawers constructed like a slip with the middle stitched closed. Over this is a crisp red print under skirt. Her woven-reed shoes are often seen on Russian peasant dolls of this period called "lapti, " which are often very beat up or missing.
In this case they are mostly pretty intact, with the exception of the back at the heel and on the right sides of her shoes. Her legs are wrapped with cotton leggings and threads are wound around that are attached to the shoes. Overall, she is from among the earliest of these Russian dolls made, of museum quality and in excellent vintage (but not mint) condition, both as a doll and as a record of the detail of rapidly disappearing ethnic traditional costume.
Her hand positioning is the way she has always been. Sometimes these dolls have arms down at the sides or with arms crossed or with other very nice poses like this lady has. Her arms are held in place with just a couple of stiches so the new owner can reposition her. The dolls body face and hands are clean.
However there is damage to the stockinette on the backs of her hands and on her face. See especially the left cheek, and above the right brow. Other than these problems, she is in excellent vintage condition, especially for her age. Please see my other auctions.
I will be offering some other very high quality ethnic / native / national / European / cultural regional folk costume dolls, including others of this series representing the Riazan region, Ukraine and others. The item "1920s XL 14 USSR Soviet Union Russia Smolensk Lady Russian Cloth Stockinet" is in sale since Monday, June 27, 2016.
This item is in the category "Dolls & Bears\Dolls\By Type\Cultures & Ethnicities". The seller is "elsacaufield" and is located in Moorhead, Minnesota.
This item can be shipped to United States.
Country/Region of Manufacture: Russian Federation