Soviet Russian LENIN CENTENARY VASE 1969 Korosten Porcelain mfg USSR Propaganda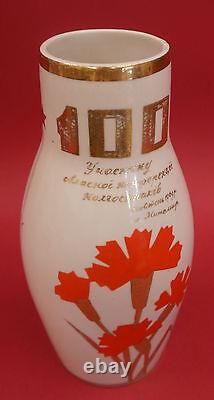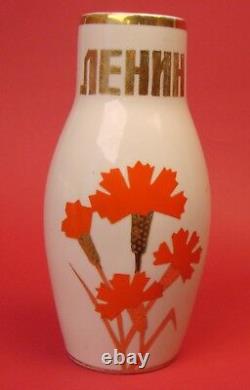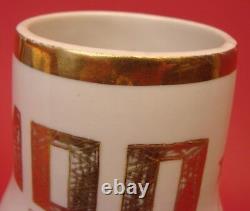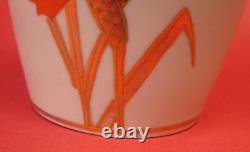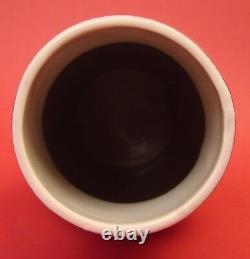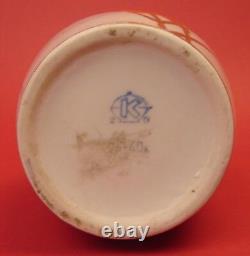 Soviet Lenin Birth Centenary Vase in porcelain, by the Korosten Porcelain Factory. This is GUARANTEED 100% original Soviet item made in 1969, NOT a recent replica! 8 1/2" (22 cm) tall, 4" diameter in its widest part, 3 (7.5 cm) wide at the base.
This is a special anniversary edition made to celebrate the Centenary of Lenin's birth in 1970. Inscription in large gold characters near the top reads "LENIN 100". The artwork is bold patterning in gold with many stylized red carnations. There is a presentation inscription in gold. Above the carnations "To a participant of the regional conference of collective farmers, October 1969, city of Zhitomir".
Attractive modern design was just a little beyond the factory's ability to not only conceive but to execute. Close inspection will reveal a few manufacturing irregularities in the glaze. Fortunately, most if not all are not immediately noticeable at first glance. There are also a few places where the gold decoration has worn thin, a single yellow stain (very faint), and a couple of tiny black spots that are imperfections in the glaze, not damage.
All these imperfections do not detract from the overall appearance of the vase and actually add genuine character. We would rate condition as very good. Red carnations were a fixture of Soviet commemorations and memorials for decades and they still are in Russia today. A dramatic accessory for the home of an unrepentant Leninist.